Christmas and the Web Store
Merry Christmas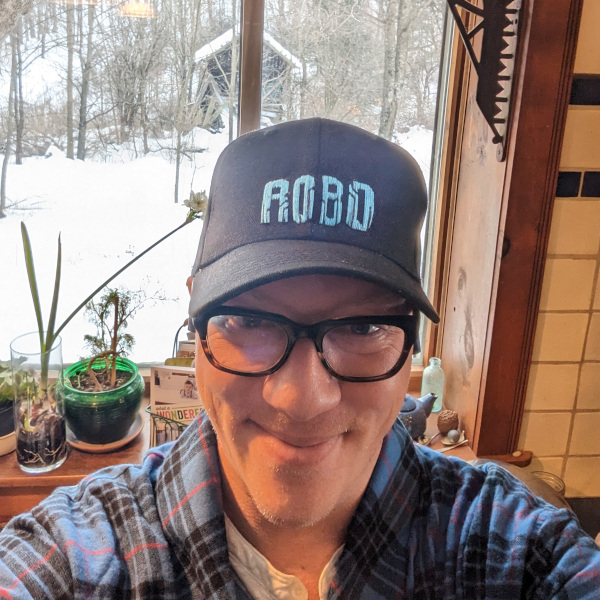 I'm up in the frozen north with the family to celebrate the Christmas holiday. This year, it's literally the frozen north. I drive the long distance and often try to stop and break up the trip. My first day's travel had an extra 2.5hrs and an incredible amount of stress from the torrential and constant rains. That turned into a dangerous amount of ice as the temperatures dropped below freezing and left me stuck for another day. It hasn't been above freezing all week, but I did safely arrive.
My family delayed Christmas due to the scheduling issues so this morning we finally celebrated. And as you can see, I got a really sweet hat out of it! This hat is one of a kind, hand embroidered by my sister. I don't currently have any plans to make hats or other clothing products for Robo, but I do look forward to wearing this to conventions in the next year!
Web Store Updated
The real work that I've been doing the last week or so, is driving myself insane trying to manipulate the CSS for the website's store. I may have lost my mind, but it's finished! You can now buy copies of Robo in print or pdf from the links above.
This means that I have also finished setting up the Square and ConvertKit stores to support these things. Yet another step towards being able to sell copies of the comic in person at conventions and other events with the Square store. It also helps me keep track of inventory for physical assets. That's how I found out there are only 38 copies of Robo #1 left (as of this posting).
I still haven't decided exactly what I will do regarding reprints, but I think Robo #1 will need to be reprinted so that people can pick up a single issue to check out the series. Other issues may only be reprinted in the collected edition after Robo #6.
Robo #6 on the Way
Finally, it's time to begin work on Robo #6 in earnest. Renzo delievered the first pass of inked pages right before my travel. When I get home, I will be reviewing those and then the process of lettering begins. That also means the Kickstarter pre-launch is just around the corner as well.
I hope you'll keep an eye out for it in your inbox and on Kickstarter coming soon!